Khloé Kardashian responded to a fan on Twitter who asked her about the dream place to spend vacations with kids. The 38-year-old The Kardashians star responded gracefully to her follower about her choice. 
❤️ @maikopoems In my opinion vacations are only tropical places.
It's not a vacation when you have to take kids to a cold place and bundle them up and then one of them has to pee and you have to take off all their layers etc. so any place tropical

— Khloé (@khloekardashian) October 13, 2022
The season 2 of the fourth episode of the famous reality show, The Kardashians, was aired recently in which Khloe was seen tweeting with her followers. A fan asked her, "What's your dream vacation that you want to take with the babies?"
Khloe responded, "In her opinion, vacations are only for tropical places," she further added that she would not consider that place a vacation where kids have to pack in a bundle of layers, especially when they have to pee, you need to require to keep aside all the layers. Further stressing the tropical place, she wrote, "so any tropical place."
Before welcoming a son with her ex-boyfriend Tristan Thompson, with whom she also has a daughter named True, Khloe Kardashian last released photos from a tropical vacation with True. The trip served as a chance for the mother and daughter to bond.
The adorable photos show True holding onto her mother's back as the two take a swim in a lagoon with a blue sky in the background. The Keeping Up with the Kardashians alum was asked about the significance of diversity to the fashion line when she spoke with Elle in August about her new Good American collection, Pop Off Pink. She said that part of the idea for it is actually her daughter, True.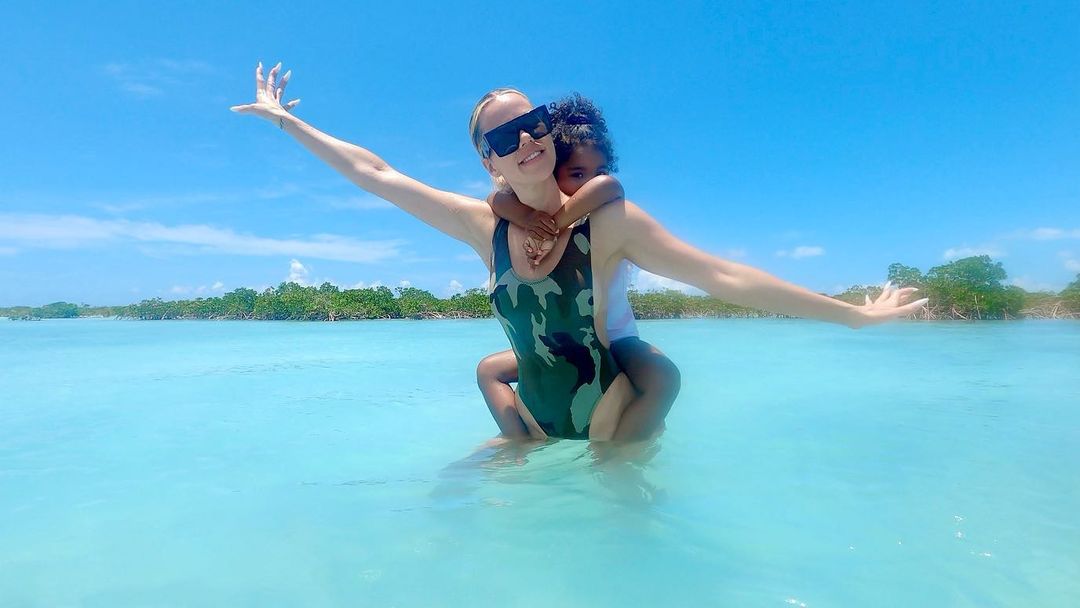 The models she selects to represent the brand, according to Kardashian, "shouldn't be cookie cutter-shaped because there isn't a cookie cutter-shaped woman out there." "I believe that everyone should feel represented."
The former member of the Kardashian family was asked about the value of diversity to the fashion brand when she spoke with Elle in August about her new Good American collection, Pop Off Pink. She acknowledged that some of its inspiration comes from reality.
Kardashian said of the models she selects to represent the brand: "There isn't a cookie cutter-shaped lady out there, so I don't think there should be cookie cutter-shaped models." Everyone, in my opinion, must feel represented.
Now that I'm a mother and have a kid, I want her to see every aspect of herself, her friends, and her cousins—I guess I just want everyone to feel validated.
True was born in 2018. Kardashian and Thompson began dating in 2016. They reunited after splitting in June 2021. Then, in January of this year, Kardashian called it quits with the athlete.
Tristin has two kids, Theo, 10 months, and Prince, 5, whom he shares with his ex-girlfriend Jordan Craig. 
The Good American founder further received several tweets from that follower asking several questions.