When you think of a bankrupt millionaire, what comes to mind? That's certainly not clear, but it seems that American TV personality Todd Chrisley is well-known to viewers thanks to his starring role in the USA Network reality series "Chrisley Knows Best."
The self-made billionaire has accumulated a debt of $49 million despite the unique revenue from his career.
But his narrative doesn't end there; Todd now lives comfortably in a mansion worth $2 million. He allegedly spends at least $30,000 a year on clothes for his family. 
Divorce, money problems, and several issues have plagued Todd Chrisley's life. Everything you wanted to know about him is right here.
His Early Life
Michael Todd Chrisley was born in Georgia on April 6, 1969, spending most of his formative years in Westminster, South Carolina. 
Gene Raymond Chrisley and Faye Chrisley, his parents, significantly influenced him. On July 11, 2012, his father passed away.
Together with his brothers Randy and Derrick Chrisley, Todd experienced childhood. They were kids from a tiny town who were captivated by bicycles. About his academic background, not much is known. Todd says he started with nothing and has made his life into what it is today entirely by his effort.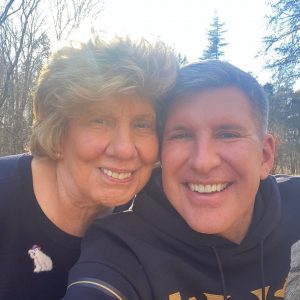 Before his successful career in the media, Todd was a real estate investor. After signing a deal with 'Fannie Mae,' he could buy foreclosed homes at a discount and resell them for a profit.
Chrisley & Company has retail, media, entertainment, and asset management holdings. From an early age, he could amass a considerable fortune through his commercial ventures. 
Chrisley Asset Management (CAM) lost a lot of money on a sizable real estate investment in 2008 when the market for homes began to decline. Ultimately, Todd could not repay the $30 million he had guaranteed as a loan and was forced to declare bankruptcy.
His Family
Todd's two marriages have produced five children for him. His first wife, ex-wife Teresa Terry, is the woman he married when he was just 21.
Teresa had their first kid at the young age of 19. Both Lindsie and Kyle Chrisley were born to them throughout their long marriage.
The couple separated in 1996 and eventually divorced. Terry, now a divorcee, reveals that the couple's breakup resulted from years of physical and verbal abuse on Todd's part.
However, in court, Todd rejected the damaging allegations against him.
Separating from his first wife, Todd married his current wife, Julie Chrisley, on May 25, 1996. They have three children from their tumultuous marriage.
The Chrisleys have three children: daughters Savannah and Grayson, and a son, Chase.
Grandnephew Chloe, age 5, is in Todd's full custody. She is his oldest son Kyle's offspring, with his longtime lover, Angle Johnson.
The battle with drug addiction that Kyle has fought has taken a mental toll on him. For Todd Chrisley, Chloe would always be a member of the family and a child first, and he assured the public of that.
Kyle Chrisley, his son, did not appreciate this. His interview with the Daily Mail in October 2014 was nasty in which he called his father "a bankrupt, toxic, and a snake."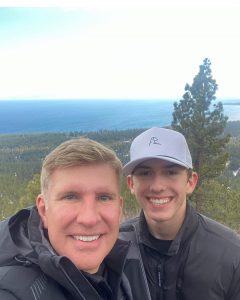 Kyle's father accused his son, Kyle, of using the custody of his daughter, Chloe, as a bargaining chip to boost the ratings of his reality program. 
Todd told E! News that Kyle's claims were untrue and unfortunate. Kyle, he said, was looking for a method to self-medicate, which is something he's done off and on since he was a kid.
His Bankruptcy Story
Unfortunately for Todd, his business investment failed, and he now owes $30 million (including $12 million in mortgages and his wife's $4.4 million loan).
A Chapter 7 bankruptcy petition was submitted on his behalf in August 2012. He reported having only $100 in cash, $55 in a bank account, $4.2 million in assets, and nearly $49 million in debt.
Later revealed that Julie Chrisley had received over $700,00 in transfers from CAM corporate accounts, putting the total amount of money she had received from the Company in the millions during the bankruptcy proceedings.
Following the bankruptcy, the family is being supported by Julie, who is claimed to be worth $3 million. 
It wasn't until 2015 that resolved the lawsuit. Todd confirmed it to Radar Online, who added that the family was doing monetarily and emotionally well.
His Career
Todd Chrisley has been on other reality shows, but "Chrisley Knows Best" made him famous. After this show, his family of five children and his wife have become the focus of several reality series in the United States.
Todd is the strict, disciplined father they need for situations for his family. On average, 1.16 million people have watched it since its debut on March 11, 2014. There have been 5 seasons thus far, and each has averaged over 1.2 million viewers. 
Savannah and Chase Chrisley got their spinoff show in 2017, as subsequently reported. Their live appearances on television would cause their parents a lot of stress and worry. Chrisley Knows Best is reportedly filming its sixth season right now, as reported by Todd to US Weekly.
His Net Worth
It would appear that Todd is enjoying professional fulfillment, as evidenced by his enviable pay. If his investment hadn't been a loss, he would otherwise be in a healthy position financially. 
But it didn't work out. Currently, his only source of income for his program, and it has been speculated that he has a net worth of approximately $5 Million. His official salary has not been made public at this time.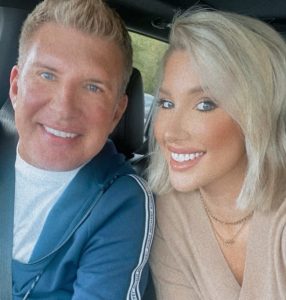 Summary
Todd Chrisley has worked tremendously hard to achieve where he stands today in his career. He is also active on his Instagram account @toddchrisley, with 2.3 million followers. Chrisley is a self-made entrepreneur and has gained an immense name in his field.