Glen Lerner is a well-known personality in the United States of America. He is a Personal Injury Attorney who started practicing injury law over 30 years in Las Vegas, Nevada. He began in the law profession in 1991 and has created a legacy with his name. 
Glen has two personal injury law firms in Chicago and has become one of the biggest names in the personal injury law firms in the United States. His company has additional offices and lawyers in the states of California, Illinois, Indiana, and Arizona.
Lerner is a well-established name in the field of law, which has been made with years of experience and expertise. Glen has successfully created an empire that is not a local-level name only but turned out to be an institute of national reputation.
Other than information about his professional life, let us have a look at a few facts about Lerner.
| | |
| --- | --- |
| Name | Glen Lerner |
| Date of Birth | NA |
| Age | 57 Years approx. |
| Birth Place | Brookline, Massachusetts, USA |
| Gender | Male |
| Zodiac Sign | NA |
| Nationality | American |
| Religion | NA |
| Ethnicity | White |
| Relationship | Married |
| Spouse | NA |
| Color of Hair | Brown |
| Color of Eyes | Brown |
| Instagram | NA |
| Twitter | glenlerner |
| Linkedin | Glen Lerner |
| Profession | Personal Injury Attorney |
| Company Name | Glen Lerner Injury Attorneys and Lerner and Rowe Accident Lawyers |
| Education | Juris Doctorate, Law |
| University | Tulane University Law School, Duke University |
| Net Worth | NA |
Education
Shedding some light on the educational background of Glen, information about early life and education of Glen is not available. However, he initiated his undergraduate studies at Dartmouth college for one year and then completed his Bachelor's Degree in Arts, Religion at the renowned Duke University in 1987.
Further, Glen completed his graduate studies in Juris Doctorate in Law at the prestigious Tulane University Law School in New Orleans, Louisiana, in 1990.
Apart from education, Lerner was also a proud member of Duke's 1986 NCAA Division I Men's National Championship Soccer team.
Career
Glen finished his studies in 1990 and began his career by initiating solo practice in Las Vegas in, Nevada Area in 1991. He further practiced for several years and became a skilled trial lawyer. In 1998, he discovered his specialization in his pervasive advertising campaign.
In 2001, Glen established Glen Lerner Injury Attorneys, one of the largest legal services providers in the United States, with more than 35 lawyers working in Arizona, Indiana, and Illinois. His firm offers combined legal services, mainly assisting clients with personal injuries, dangerous drugs, product liability claims, Wrongful deaths, Drug Contamination, etc.
With his outgoing attitude, he had established a renowned practice in Las Vegas by the early 2000s. He further pushed his edge and persuaded Kevin Rowe to relocate to Arizona. Kevin Rowe is his new managing attorney, with whom he created the brand Lerner and Rowe. The firm "Lerner and Rowe" were established in 2005 in Phoenix, Arizona, and became the best brand of legal services.

Besides these, Glen also owns a company named Glen Lerner Injury Attorneys Chicago in 2011 in the Greater Chicago Area in the US. After practicing using his name for years, Glen and Kevin decided to rebrand all his businesses and change it into Lerner and Rowe Injury Attorneys.
Family and Relationships
The information about Lerner's family is limited. There is no reliable platform that can provide detailed information about his parents and other family members.
As per a few sources, it has been revealed that Lerner was an adulterer, and he ruined his first marriage because of his addiction to adultery. Glen was also on the verge of ruining his second marriage in 2006, but somehow he realized his mistakes and decided to fix everything in his personal life.
The exact details about his current wife, ex-wife, or kids are unavailable. He further took the help of Christ to improve himself in his personal life.
Glen had everything one could ever wish for, but he was broken inside and was good at hiding it. After that, he shifted his focus toward Christ and chose to fix everything in his personal life. He also contributed to society through his philanthropic work.
Philanthropy Work
After changing his mission in life, Glen started to get more involved in social services. The firm Lerner and Rowe contributes through a charitable foundation.
The firm donates around 10K school backpacks, supporting the Candlelighters Childhood Cancer Foundation of Nevada's annual Superhero and sponsoring a 5K run against human trafficking.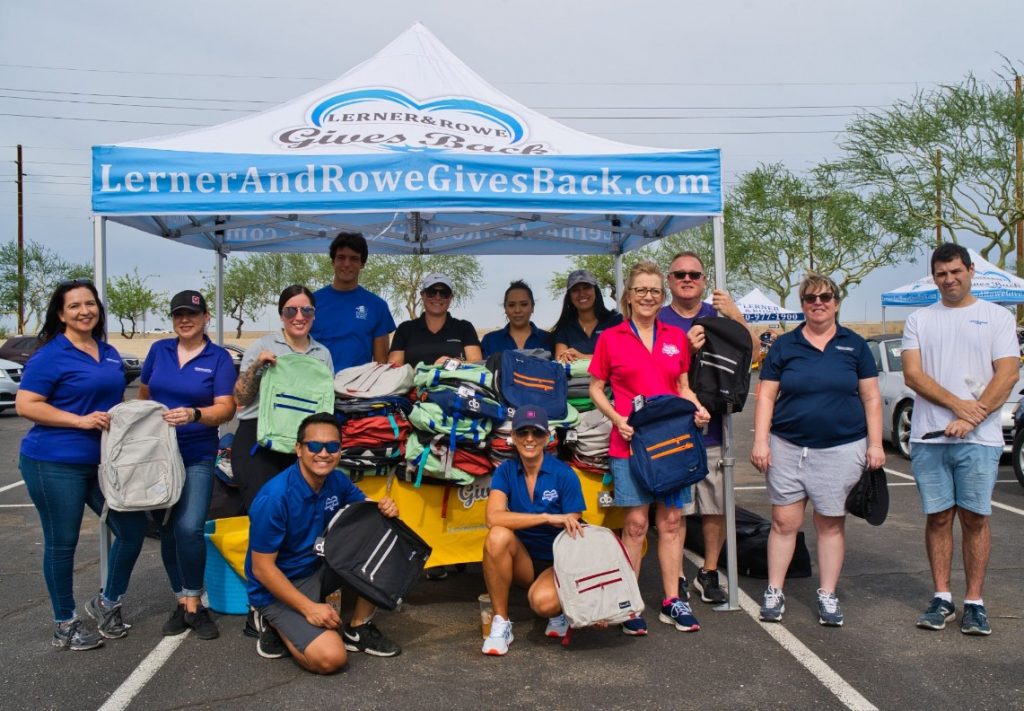 The company also raised money for the 7th annual Golf Tournament, which raised around $460,000 and supported Arizona charities. Also, they offer a scholarship program to assist low-income students.
Other than this, the firm is involved with many different causes and works diligently toward helping other people.
Net Worth of Glen Lerner
Glen is a well-established name in the legal field in the United States. The attorney started practicing 30 years back and is successfully running his three ventures almost all over the United States. 
The company Lerner and Rowe Injury Attorney and all its offices are working well in their states. The firm did not disclose any data about his net worth, but with the philanthropic work and the vast existence of the business, it would not hurt anyone to speculate the net worth of Glen Lerner in millions of dollars.
Social Media Presence
The social media presence of Glen did not seem to be active. Lerner is only available on the professional network Linkedin. Also, he has a Twitter account named @glenleraner, which is not much used since 2019.
Apart from this, the partner of Lerner and Rowe does not seem active on other social media platforms like Instagram and Facebook.
Summary
The main aim of Lerner is to provide legal services in medical malpractice cases, personal injuries, hazardous products, Dog Bites, Class actions, Automobile Accidents, and more. Glen is not only doing business but also fights from beginning to end through all the emotional and legal processes related to major injuries.