Plot Summary- From Academy Award® Winner Spike Lee comes a new joint: the story of four African American Vets – Paul (Delroy Lindo), Otis (Clarke Peters), Eddie (Norm Lewis), and Melvin (Isiah Whitlock, Jr.) – who return to Vietnam. Searching for the remains of their fallen Squad Leader (Chadwick Boseman) and the promise of buried treasure. Our heroes, joined by Paul's concerned son (Jonathan Majors), battle forces of Man and Nature – while confronted by the lasting ravages of The Immorality of The Vietnam War.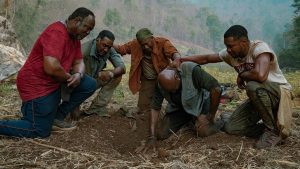 Review- The importance of the topic is undeniable. There are some excellent ideas, legendary, beautiful music by Marvin Gaye. And also a great cast creating a few touching and funny moments.
Nonetheless, the story feels too chaotic to be called outstanding! What's going on?! There are some cringe-worthy, unnatural conversations, some Tarantino'ish bloodbaths, and an Indiana Jones-like gold hunt, not in a right way. Also, there is plenty of more or less known historical footage pressed in often too hasty. This makes necessary to pause now and then to be at least able to read the text. I find this film technique making for a fictional story quite lazy, mainly if it's used so excessively often. It's too easy to make a film catchy by using real, uncensored footage of brutal events like executions.
At least I watched the whole movie, but not at once. I needed a break in-between.
In general, I love the older Spike Lee's. After a long time and the media's high praise, I just expected a more genuine, profound, realistic, if too still artistic approach to this critical topic.
The only intelligent and genuine thing were the scenes, which looked like flashbacks, just the same old characters playing themselves at war back then. I interpreted it as dream sequences caused by PTSD.