Zak Williams, the oldest son of the late actor Robin Williams, marries his "best friend" and wife Olivia June on World Mental Health Day, in Los Angeles Saturday.
The event was made all the more valuable for mental health activist Williams, coming on Mental Health Day.
"I had the luck of marrying my best friend, Olivia June today! It went very well, and we couldn't have walked down the aisle on a better day," Williams posted Saturday, with a selfie of the couple. He attached the hashtag #WorldMentalHealthDay with the post.
June, a social scientist and an entrepreneur posted a picture of the wedding reception and menu on her Twitter account, writing, "The best mental health decision of my life was the decision to marry Zak." The wedding menu included wild arugula salad, seared snapper and "love" for dessert.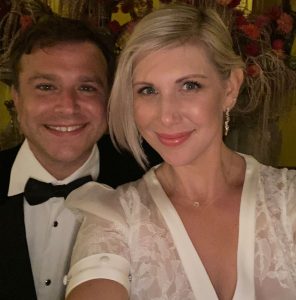 Olivia posted pictures on her Instagram, showing her splendid white gown, while Williams put on a black tuxedo. "Just married," she wrote in the caption.
She posted more wedding pictures while expounding that the couple organized their "fantasy" wedding amidst the pandemic in just weeks.
"My favourite thing about Zak and our relationship is that we always try to make the most out of whatever life offers us and that we both love living on our terms and on our own timeline," she wrote.
Williams has devoted his art to mental health awareness after his own depression and loss following the death by suicide of his father, Robin Williams in 2014.
"I experienced a severe low point in my life. I was experiencing PTSD and was emotionally dysregulated. I was taking medicines myself to the point where I wanted to feel nothing. I found that committing to service was the most healing experience for me," Williams told BBC News in May.