Nikocado Avocado is a YouTube sensation mainly known for his mukbang videos. He rose to fame through his eating videos on YouTube. He currently has more than 6 million subscribers on his YouTube channels. An estimated 1.42 billion views on his channels is one of the main reasons for his contribution to Nikocado Avocado's net worth.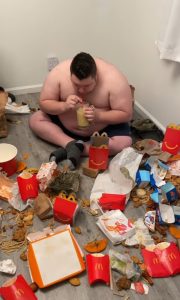 The real name of Nikocado Avocado is Nicholas Perry, born on May 19, 1992, in Kherson, Ukraine. Even though he was born in Ukraine, he was raised in the United States of America, in Harrisburg, Pennsylvania.
Other than creating YouTube videos, Nicholas Perry is a classically trained violinist. This creator has earned the love of millions of people through his extreme eating vlogging. This profession is his primary source of income, and he has gained immense wealth through this platform, contributing to his net worth.
To know more details about the earnings, net worth, and expenditure of Nicholas Perry, let us first have a look at the journey of this mukbanger from his bio to his early life and career.
Who is Nikocado Avocado? 
He is a well-known YouTube vlogger and creator specializing in creating mukbang or extreme eating videos. He started his YouTube journey in 2013 and worked tremendously well in this dimension.
Nikocado is one of the famous creators of extreme eating videos in the United States of America. To know more about him, check out the below-mentioned information about this Youtuber.
Nikocado has always been an entertainer who initially started his career as a violinist. But the struggles in this field led his way to the YouTube platform. 
Check out how the early life of Nikocado has turned the events and paved the way for the mukbang videos on YouTube.
His Early Life and Education
Nikocado was born in Ukraine and brought up in Harrisburg, the state capital of Pennsylvania in the United States. He was adopted at a very early age which was hard for him to deal with and led to mental health issues in his childhood.
Nicholas started his therapies with the professional at the age of five. He was on antidepressants at the age of seven. In his teenage years, he was diagnosed with Obsessive Compulsive Disorder (OCD) and Attention Deficit  Disorder (ADD).
The exact information about the family and parents of Nikocado is unavailable. Neither are there any details about his basic education. However, he chose to learn violin and aimed to pursue music as his career.
Nicholas is a classically trained Violinist who initially began his career in music. He had the desire to play in the orchestra in the Broadway show.
After a while, Nicholas started creating YouTube videos in 2014 as a vegan vlogger, where he posted content about the vegan lifestyle. Later, he quit vegan culture and began his career vlogging Mukbang videos.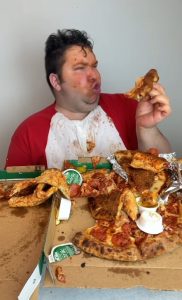 As per a few sources, Nikocado quit that lifestyle because of the bad effects of veganism on his health. Nikocado faced a Vitamin B-12 deficiency and developed a condition of Hypoglycemia; however, he was not sure of the reason for these health conditions, but he never had it before turning vegan.
How did Quitting the Vegan lifestyle change his life?
Nicholas Perry was previously unknown to everyone but rose to prominence when he started vlogging about extreme eating videos. The career of Nicholas Perry reached the zenith of success in the genre of mukbang video creation.
Perry created multiple YouTube channels named Nikocado, where he uploaded content in which he ate a large quantity of food and communicated with the audience. 
Nicholas became famous for being a part of this trend of extreme eating. In fact, his videos started to get attention as Perry used melodrama to engage the viewers in his videos. He even began creating thumbnail images for his videos to take advantage of his sentiments.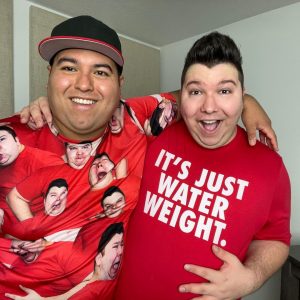 Moreover, Nikocado admitted in his podcasts that emotionally turbulent videos helped him generate more audience.
In 2019, Nikocado tried to quit creating mukbang videos because of his health issues, but his viewers only liked him for this content, leading him to continue with this niche.
The career of Nicholas Perry revolves around his Mukbang content on his YouTube channel. As per sources, he used to weigh around 155 lbs when he started his channel, and now he weighs over 350 lbs In fact, he also created a video where he exceeds 400 lbs and is moving forward to gain more weight and aims to be around 600 lbs.
Perry is earning millions through his content on YouTube. Let us further have a look at the Nikocado Avocado's Net Worth.
His Net Worth
Nikocado earns from multiple sources such as YouTube ads, Cameo Performances, Collaborations with other creators, and many other investments. He currently has six YouTube channels from which he has acquired handsome earnings.
His channel has 3.21 million subscribers with 672.8 million views and 6.5 million subscribers combined with 1.42 billion views.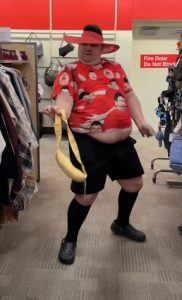 In one of his videos, he once revealed that he owns a penthouse apartment worth @2.3 million. Besides this, the exact details about his other properties and owned assets are not available. From all the sources of income, it can be assumed that Nikocado Avocado's Net worth is estimated to be over $5 million.
Summary
Nikocado is now a well-established name in creating mukbang videos. From his videos, it is clear that it is not healthy for his body, and even some of his followers on Instagram show their concern if he is not mentally well. But most of the time, it has been observed that Perry used such content to improve the number of his viewers. It would be great to see in the coming years how the net worth of Nikocado increases, given the unhealthy lifestyle of the creator.