Although it is a Thai staple since the 1300's, massaman originated in India- and often features cloves, cumin, cardamom, and cinnamon along with the more familiar shrimp paste, chillis, galangal, and lemongrass.
Sirachai Kularbwong, the chef at Singburi in London- probably the UK's best Thai restaurant, says, "Massaman is not meant to be tangy."
"The dish is best when it's initially slightly sour, then becoming savory and sweet. The point is to taste the fine spices and subtle fragrances that went into the dish."
Thai massaman curry 
Serves 6
Two tablespoons of vegetable oil
Three red onions, cut into wedges
800g chicken thighs
500ml can of coconut milk
Six tablespoon massaman curry paste
Three tablespoon fish sauce
Three tablespoons soft light brown sugar
Two tablespoon tamarind paste
One cinnamon stick
One lime
500g big potatoes cut into 3 cm chunks
Peanuts, roasted for a few minutes in a pan
To serve
Jasmine rice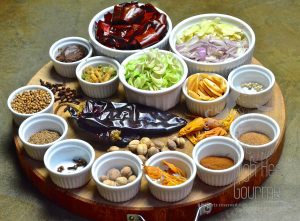 Heat the vegetable oil in a pan for a few minutes until it shimmers. Sear the chicken pieces and onions, then set aside. The chicken doesn't need to be fully cooked yet.
Heat 4 tablespoons of coconut milk in the casserole dish until bubbling. Then add the curry paste and cook over a low flame, stirring continually for two minutes until fragrant. Stir in the rest of the coconut milk, tamarind paste, fish sauce, cinnamon stick, sugar, and lime. Then add the chicken and potatoes. Simmer for about 30 minutes, or until the potato chunks are fully cooked. Add the onion wedges and peanuts about 15 minutes from the end.
Garnish with chopped coriander, crispy shallots, and lime wedges, and serve with jasmine rice.