There are so many reasons to start eating more vegan food; it's hard to count. It is suitable for the environment, and all the research shows eating less meat is excellent for your health and definitely better for the animals. But one of our favorite reasons; It's so tasty!
This vegan recipe has it all. It's not only straightforward and super quick to make, but it is bursting with flavor. Though, if you're feeling a little peckish afterward, you can always complete the meal with a vegan dessert. 
Vegan Chili with Grains and Beans
Serves- 6
INGREDIENTS
1 (30-ounce) can fire-roasted crushed tomatoes
1 (15-ounce) can petite diced tomatoes
1 tbsp. Chili powder
3 tbsp. ground cumin
2 tbsp. Coriander 
Three cloves garlic, pressed 
One onion, chopped
Two large carrots, chopped
One large poblano pepper, chopped
¾ c. wheat berries
Freshly ground black pepper and kosher salt
1 (15-ounce) can black beans, rinsed
1 (15-ounce) can kidney beans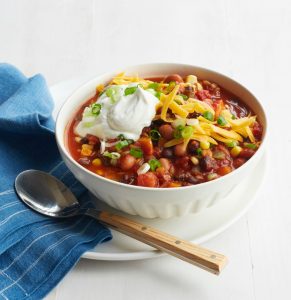 To serve- Sliced scallions, lime wedges, and fresh cilantro.
DIRECTIONS
Combine diced tomatoes, crushed tomatoes, carrots, onion, wheat berries, poblano, cumin, garlic, chili powder,  coriander, ¾ cup of water in a 5- to 6-quart slow cooker—season with pepper and salt. Cook, covered until wheat berries are cooked but still chewy, 4 to 5 hours on high. 
Stir in both beans and cook until one boil, 9 to 10 minutes. And serve with cilantro, sliced scallions, and lime wedges alongside.