First dates can be exciting and nerve-wracking, especially for teenagers who are experiencing the ups and downs of romantic relationships for the first time. Choosing the right activity for a first date is important because it can set the tone for the rest of the relationship. These days you can easily find ample first date ideas for teens; however, it's important to choose something that both parties will enjoy and that will allow them to get to know each other better. 
Whether it's a movie, amusement park, nature walk, or museum visit, the goal is to have a fun and memorable time together. In this post, we have narrowed down to the best 10 inexpensive, fun & cute ideas for teens to move forward with on their first date.
Here are some first-date ideas for teens that can help make the experience enjoyable and meaningful.
1. Go to a movie
Going to a movie is a classic and inexpensive first date idea for teens. This can be a great opportunity to get to know each other's interests and preferences.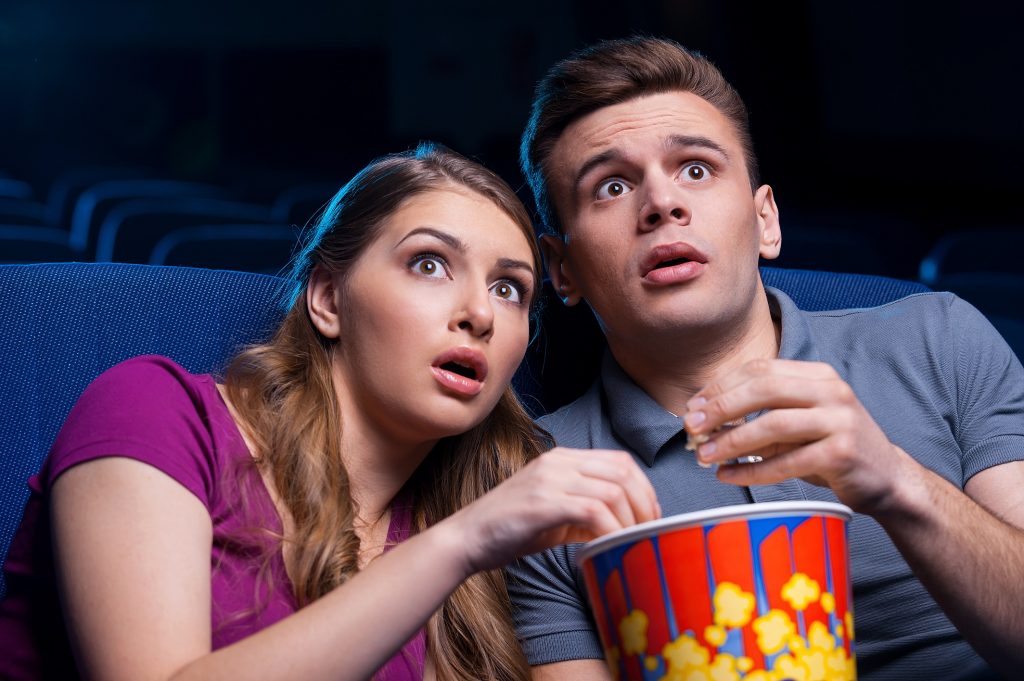 This can be a great opportunity to get to know each other's interests and preferences. Many theaters offer discounted prices for students or on certain days of the week. Matinee showings are usually cheaper than evening showings, so this can help save money. Movie theater snacks can be expensive, so consider sharing popcorn and drink to save money. 
2. Visit an amusement park or a local fair
Amusement parks and fairs offer a wide range of activities, from rides and games to food and entertainment. This can give you and your date plenty of options to choose from and keep the conversation flowing.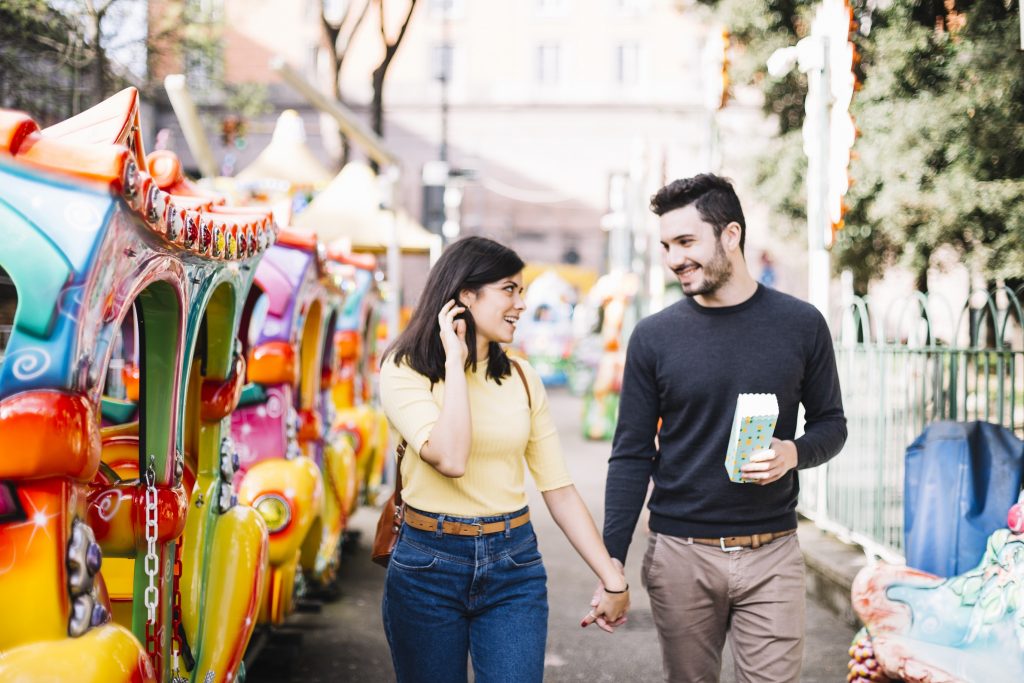 Parks and fairs are relaxed and informal environments, which can help to ease any nerves or tension you or your date may be feeling. Compared to other date ideas, visiting an amusement park or fair can be relatively inexpensive. 
You can buy a ticket or wristband for a reasonable price and then spend as much or as little as you want on food and games.
Make sure to check the weather forecast before you go, so you can dress appropriately and plan for any potential rain or wind. 
Remember to relax and have fun! The goal of a first date is to get to know each other and have a good time, so enjoy the experience and don't stress too much about making it perfect.
3. Go for a Coffee
Going for a coffee on a first date as a teen is a great inexpensive option. The best thing about going on coffee is that it is low-key, affordable, and easy to plan.
You don't need to make reservations or plan ahead too much for a coffee date. Just pick a time and place that works for both of you and go from there. 
If the conversation is going nicely, you can stay for a while and chat over a second cup. If things aren't clicking, you can finish your drink and politely say goodbye.
4. Nature Walk
If you both enjoy the outdoors, a hike or nature walk is a great first date idea. You can explore local trails or parks and get some exercise while enjoying each other's company.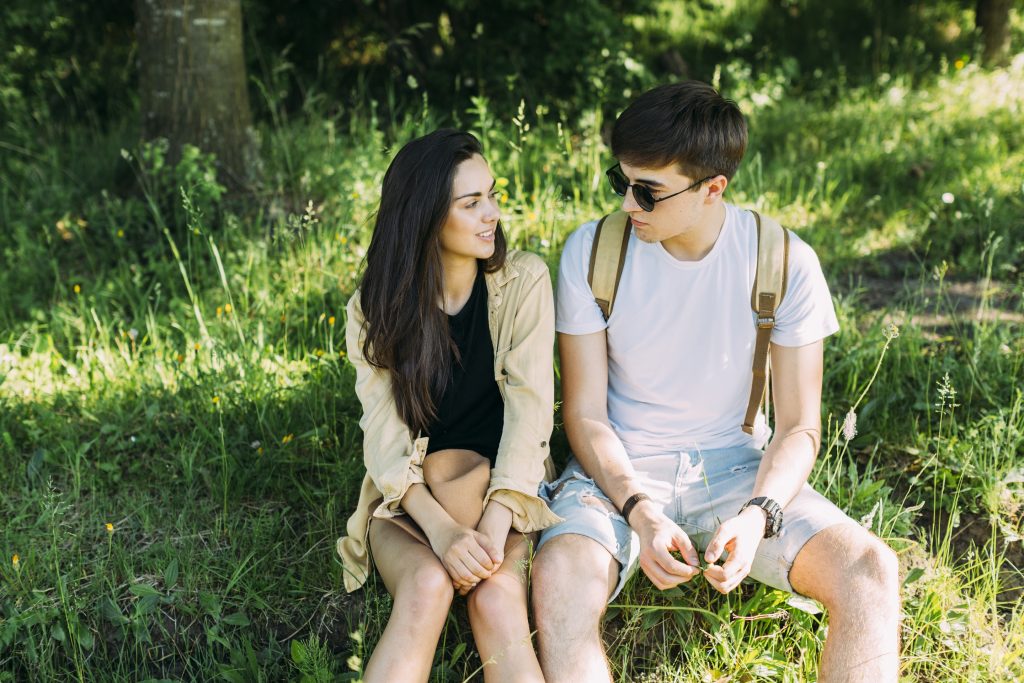 Going on a nature walk can provide a peaceful and relaxed environment to talk and get to know each other better. Walking and talking side by side can be a fantastic way to break the ice and build a connection.
It is a great chance to know each other better, plus it is free and healthy. All you need to do is a good pair of shoes and some comfortable clothes.
However, remember to respect the environment and wildlife around you. Don't litter or disturb any animals you may encounter.
5. Play mini-golf or go bowling
Mini-golf or bowling is a fun and low-pressure activity that allows you to talk and get to know each other while having fun.
It is preferable on the first date as it's a low-pressure activity, affordable, and a good way to get to know each other. While you're playing mini-golf or bowling, you'll have plenty of opportunities to talk and get to know each other better.
While you're playing, try to keep the conversation going. Ask questions, share stories, and find common interests to talk about.
6. Visit a museum or art gallery
If you're interested in art or history, a museum or art gallery is a great place to go on a first date. You can explore the exhibits and learn something new together.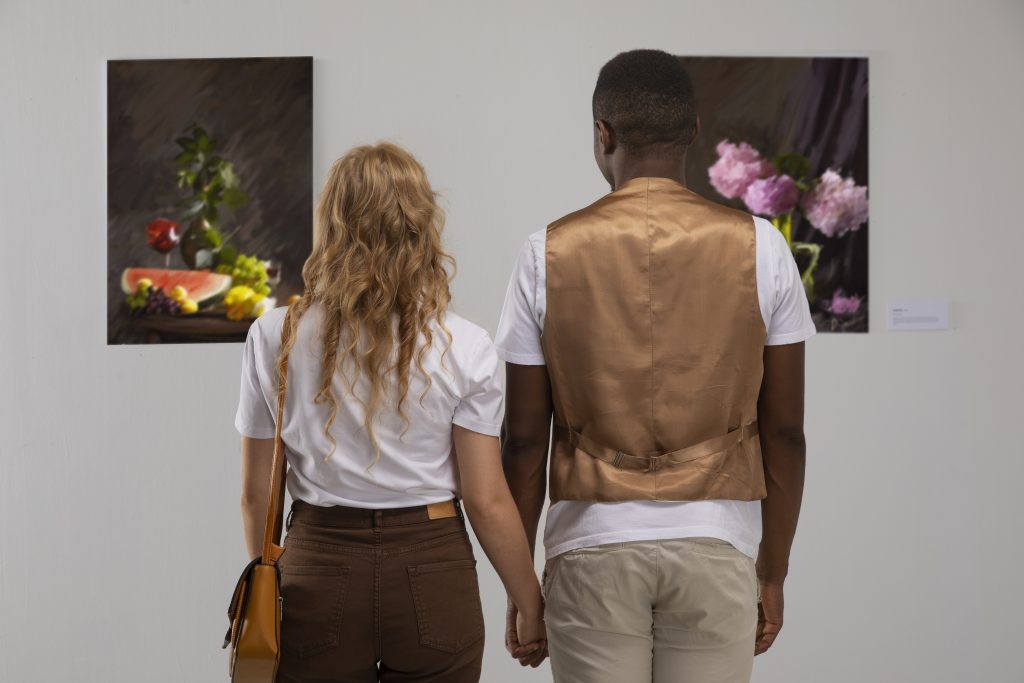 Visiting an art gallery or museum can be a fun and informative experience. You can learn about different cultures, time periods, and art styles while exploring the exhibits.
Many museums and galleries offer free or discounted admission for students, which can make it an affordable date option. 
Museums and galleries tend to be quieter and more relaxed environments, which can make it easier to have a conversation and get to know each other without distractions.
Make sure to look up the museum's hours and admission prices, and plan your visit accordingly. Make sure to arrive early to avoid crowds and to have enough time to explore the exhibits.
7. Have a Picnic
A picnic is a romantic and affordable first-date idea. You can pack some food and drinks and find a nice spot in a park or beach to enjoy each other's company.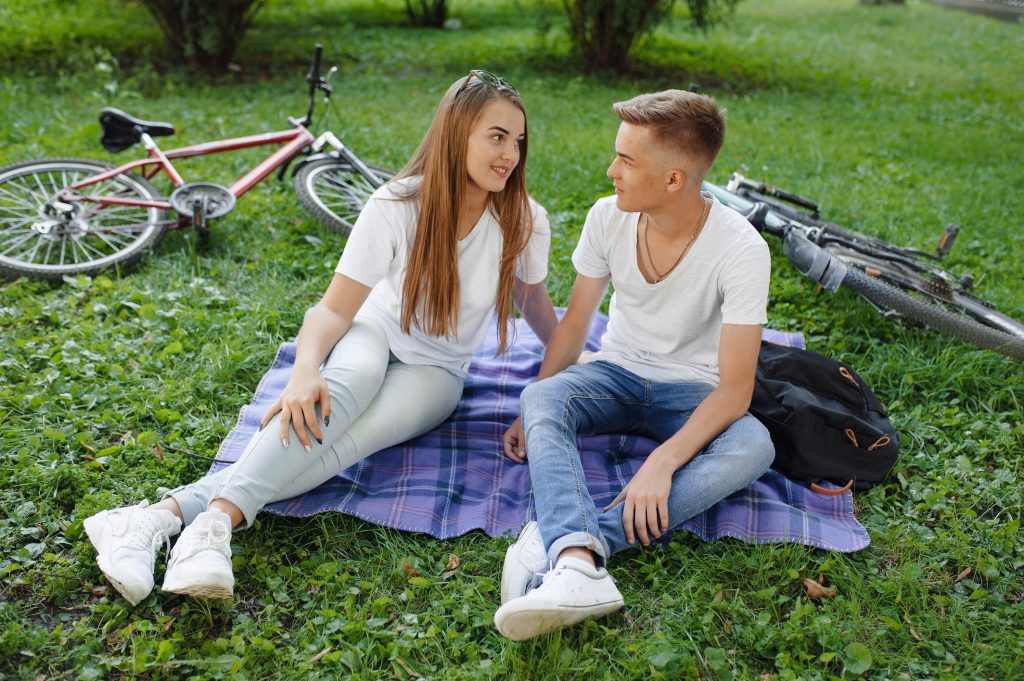 Look for a local park, beach, or other outdoor location that offers a beautiful view or serene atmosphere. Make sure to check if the location requires any permits or fees beforehand.
Keep your menu simple but delicious. Bring some sandwiches, fruit, and drinks, or consider making your own homemade snacks. Don't forget to bring utensils, plates, and napkins. Make sure to bring a comfortable blanket or chairs to sit on, so you and your date can relax and enjoy the scenery.
Pack a frisbee, soccer ball, or other outdoor game to play together. Alternatively, you can bring a book, music player, or other leisure activity to enjoy while lounging.
8. Cooking/Baking
If you both enjoy cooking or baking, you can plan a date when you cook a meal or bake something together. It can be fun and romantic to cook and eat together.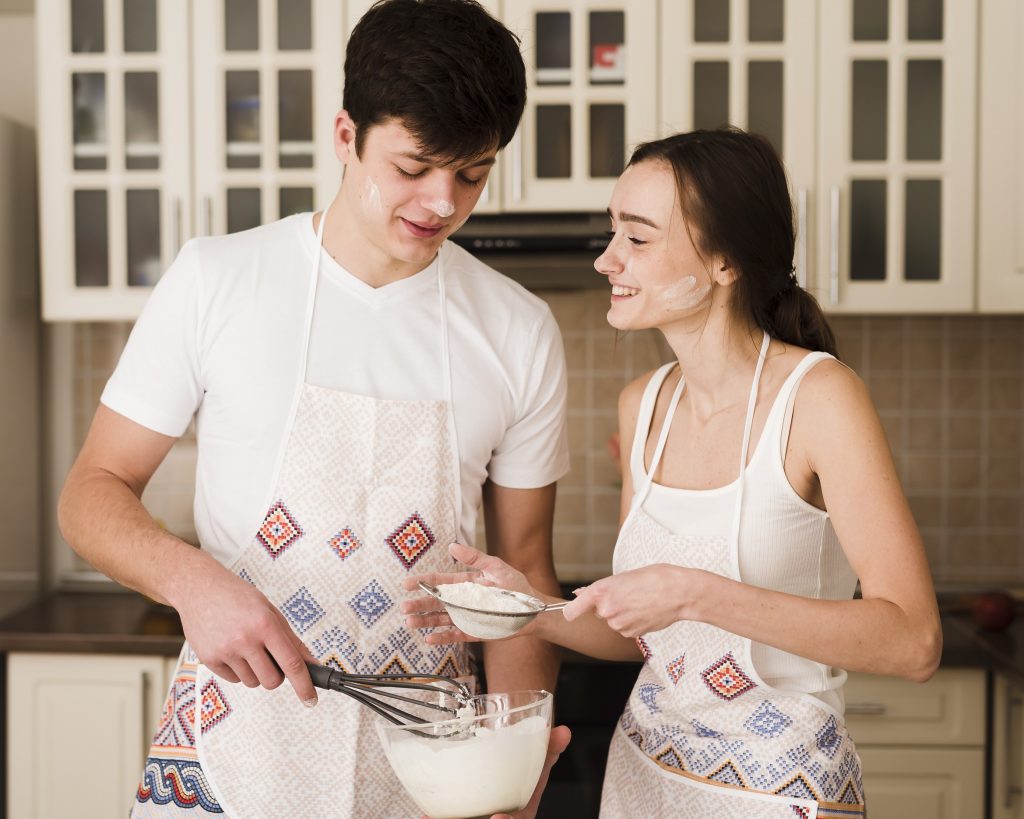 Make sure that you have permission from your parents or guardians to have a guest over and use the kitchen. Plan ahead and choose recipes that are simple and easy to follow, especially if you or your date are not experienced, cooks or bakers.
Consider any allergies or dietary restrictions that your date may have, and choose recipes that accommodate them. Have all the necessary ingredients and tools ready before your date arrives.
Make sure that you have enough time to prepare the food and clean up afterwards so that you're not rushed or stressed during the date. The most important thing is to work together with your date to prepare the food and have fun with the process!
9. Ice-Skating
If you live in a colder climate, ice skating is a romantic and fun first-date idea. You can hold hands and enjoy each other's company on the ice.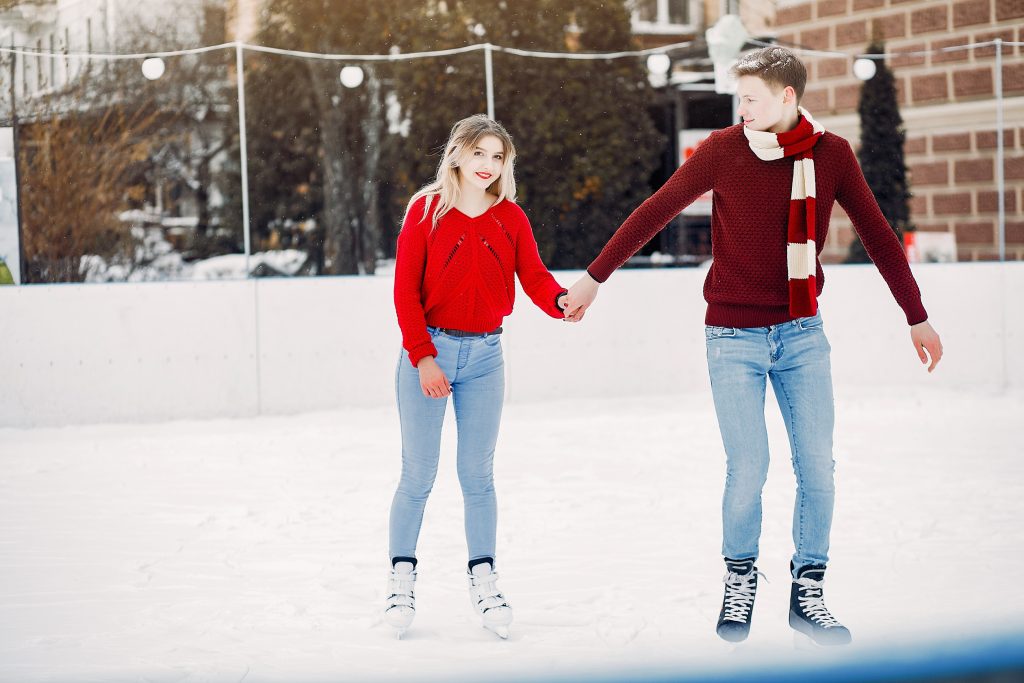 Holding hands while ice skating is a great way to bond and show affection without being too forward. Just make sure to ask your date if they're comfortable with it first. 
Ice skating can be difficult, especially if it's your first time. Be patient with your date, and offer words of encouragement and support when they're struggling.
Always wear a helmet and other protective gear when ice skating. Make sure to follow the rules of the rink and be mindful of other skaters around you.
10. Beach
If you live near a beach, it's a great place to go on a first date. Make sure you choose a safe and public beach that is well-lit and has plenty of people around. Avoid going at night or in secluded areas.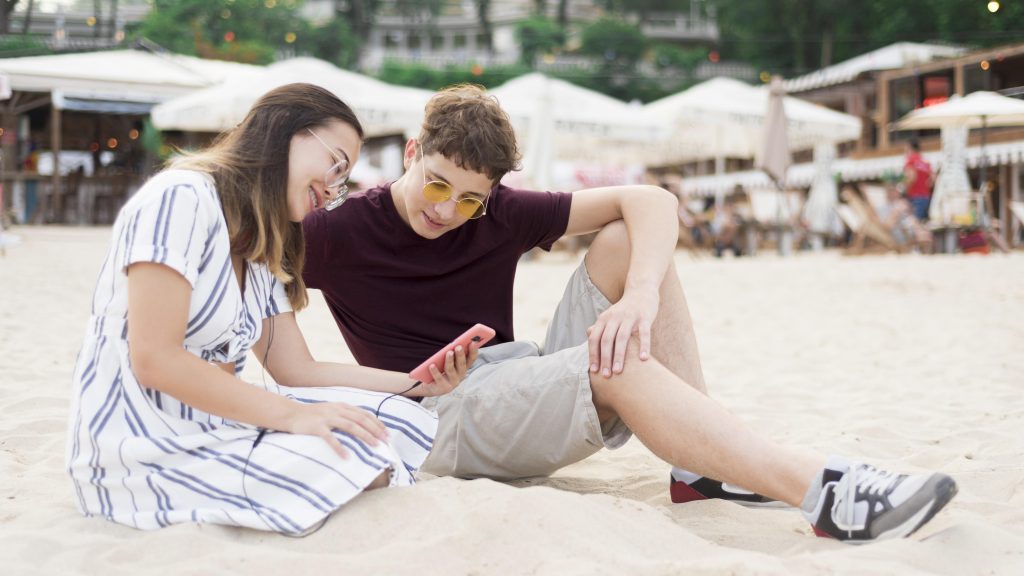 Bring a frisbee, volleyball, or a kite to play with. You can also walk along the shore, swim, or sunbathe together.
Pack some snacks and drinks to enjoy while you're at the beach. You can also bring a picnic lunch or dinner if you're planning to stay for a while. Be respectful of the environment and other people at the beach. Clean up after yourself, and don't disturb other beach-goers.
Final Thoughts
There are plenty of inexpensive first-date ideas for teens that are both fun and memorable. Whether it's taking a hike, visiting a museum, having a picnic, or going to the beach, there are many creative ways to get to know someone without breaking the bank. 
Focus on spending time together and getting to know each other rather than spending a lot of money on extravagant activities. 
With a little creativity and planning, a great first date can be had without spending a lot of money. If you plan anything last minute for a date, then it can go out of your budget. Remember, the most important thing is to choose an activity that you both feel comfortable with and that allows you to get to know each other better.