Robert Joseph Dole, well-known as Bob Dole, was born on July 22, 1923. He was an American Politician, retired Colonel, and Lawyer who represented the state of Kansas in the United State Senate from 1969 to 1996.
He was also the vice-presidential candidate in the 1976 election and the Republican presidential nominee in 1996. Bob also served in the U.S. Military during World War II.
Further, he emerged in Politics, and after his retirement from his political career, he wrote many books and did endorsements for many brands. All of his work has contributed to the net worth of Bob Dole.
Dole has worked tremendously well in his career and acquired immense wealth that has contributed to his earnings of millions of dollars. Below mentioned are a few basic details about Bob.
| | |
| --- | --- |
| Full Name | Robert "Bob" Joseph Dole |
| Date of Birth | July 22, 1923 |
| Place of Birth | Russell, Kansas, United States |
| Date of Death | December 5, 2021 |
| Place of Death | Washington, D.C., United States |
| Profession | Politician |
| Political Party | Republican |
| Nationality | American |
| Spouse | Mary Elizabeth Alexander Hanford Dole  |
| Children | 1 |
| Bob Dole's Net Worth | Estimated $50 million |
His Early Education and Life
Bob was born in Russell, Kansas, in the US, and was the son of Bina M. and Doran Ray Dole. His father was running a small creamery shop before his birth. 
He graduated from Russell High School in 1941. Further, he joined the University of Kansas and also became a part of the Kappa Sigma fraternity, which further bestowed him with the honor of Fraternity's "Man of the Year." At a later stage, he enrolled himself in the United States Army due to World War II.
Dole was also a basketball and football player during his high school years. After serving in the military for seven years, he then completed his degree in Law in 1952 from Washburn University in Topeka.
His official residence and the house where he lived before remained the same throughout his political career.
His Career
Bob Dole's Military Service
Bob joined the military services in 1942 during World War II. He joined the 10th Mountain Division Unit of the United States Army. During the war, Dole was seriously wounded and got paralyzed from the neck down. After getting operated on seven times, Dole recovered from the injuries; however, he had limited mobility in his right arm and numbness in his left arm.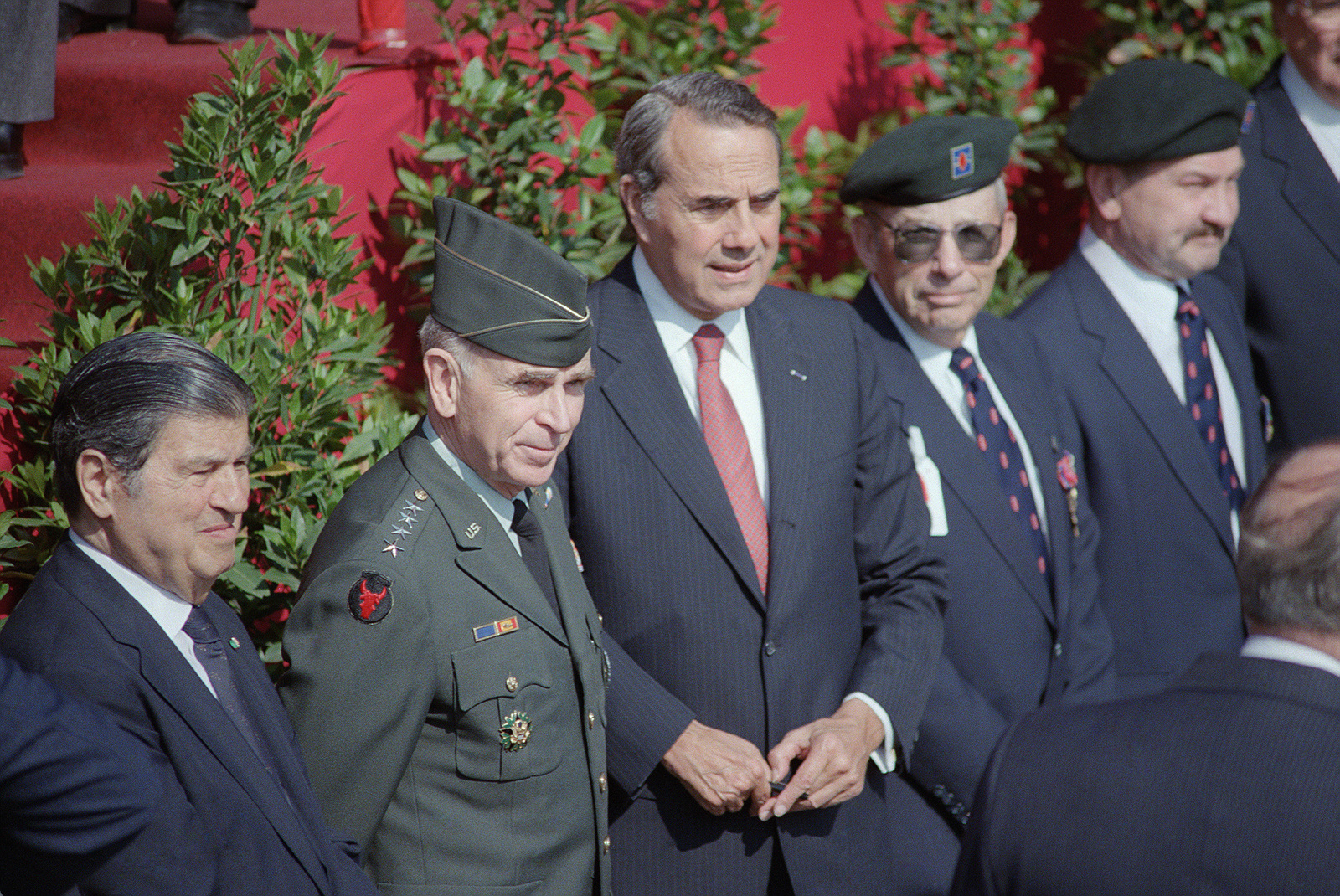 Dole retired as a Colonel from the United States Army and was honored with two Purple Hearts for getting wounded while serving and a Bronze Star Medal (U.S.) for his meritorious services in a combat zone.
His Political Career
The political career of Dole was exceptional in all the years he served, which has surely helped him to increase his net worth. Dole joined his political career by electing the Kansas House of Representatives in 1950. Let's take a look at his political journey.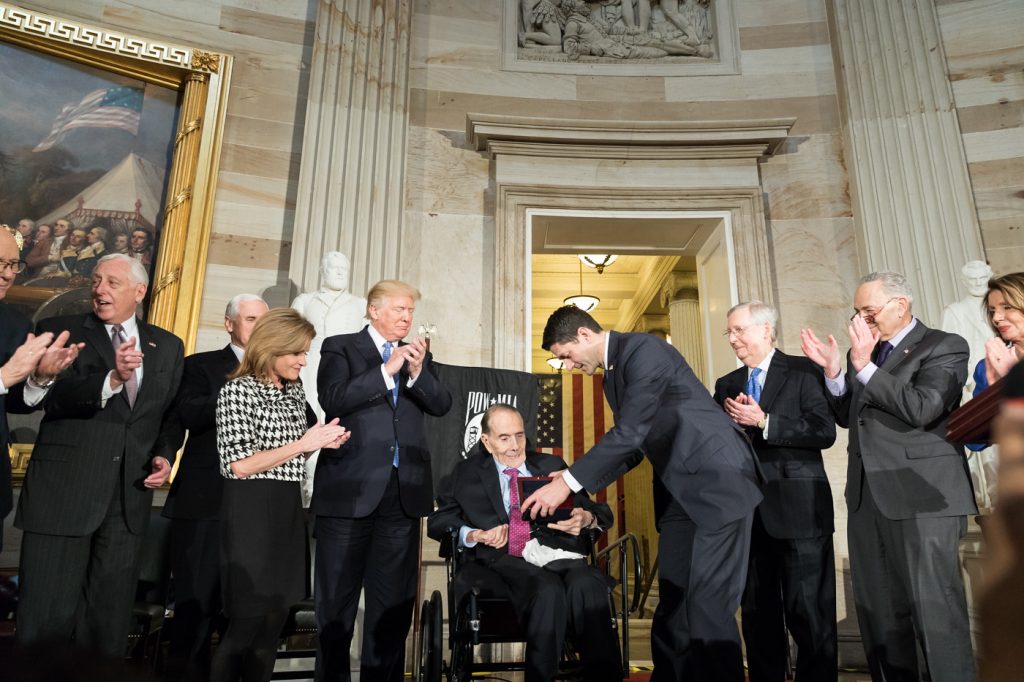 Year
Office 
Preceded By
Succeeded By

1953-1951

County Attorney

of Russell County

Jan 9, 1951 – Jan 13, 1953

Member of the

Kansas House of Representatives

from the 81st district

Elmo Mahoney

R. C. Williams

Jan 3, 1961 – Jan 3, 1969

Member of the

U.S. House of Representatives

from Kansas

Wint Smith

Keith Sebelius

Jan 3, 1969 – June 11, 1996

United States Senator

from Kansas

Frank Carlson

Sheila Frahm

Jan 15, 1971 – Jan 19, 1973

Chair of the

Republican National Committee

Rogers Morton

George H.W. Bush

Jan 3, 1975 – Jan 3, 1979

Ranking Member of the

Senate Agriculture Committee

George Aiken

Jesse Helms

Jan 3, 1981 – Jan 3, 1985

Chair of the

Senate Finance Committee

Russell Long

Bob Packwood

Jan 3, 1985 – June 11, 1996

Leader of the Senate Republican Conference

Howard Baker

Trent Lott

Jan 3, 1987 – Jan 3, 1995

Senate Minority Leader

Robert Byrd

Tom Daschle

Jan 3, 1985 – Jan 3, 1987

Senate Majority Leader

Howard Baker

Robert Byrd

Jan 3, 1995 – June 11, 1996

Senate Majority Leader

George Mitchell

Trent Lott
After the defeat of the 1996 Republican Presidential election, Dole further made his way for numerous career pathways. His Political Journey was remarkable till the end, which definitely contributed to his net worth.
Bob Dole's Post-Political Career
After the end of his political career, Dole directed himself toward a career in writing, consulting, television, and public speaking.
Dole appeared on several television shows such as late show with David Letterman, Saturday Night Live, and Suddenly Susan. He also endorsed several products like Viagra, Visa, Dunkin' Donuts, and Pepsi-Cola. He also appeared as an occasional political commentator on the interview program Larry King Live and on The Daily Show with Jon Stewart.
Dole also wrote several books based on his life experiences. He released his Autobiography named, One Soldier's Story in 2005. He wrote many books such as The Doles, Great Political Wit: Laughing (Almost) All the way to the White House, Unlimited Partners, Trusting the People, Cartoons for Victory, and many more.
Bob Dole's Net Worth
The Net Worth of Bob was recorded in millions. There is not much information available about his assets and properties, but he had many sources of income. His career in politics had given him immense wealth as a Senator, and he also received a pension through military benefits.
He wrote many bestsellers and endorsed many brands, which surely contributed to his wealth. As per sources, his net worth was $50 million.
His Personal Life and Health
Bob Dole's first wife was Phyllis Holden. They got married in 1948 and took the divorce in 1972. Later, he met Elizabeth Hanford in 1972 and got married to her in 1975.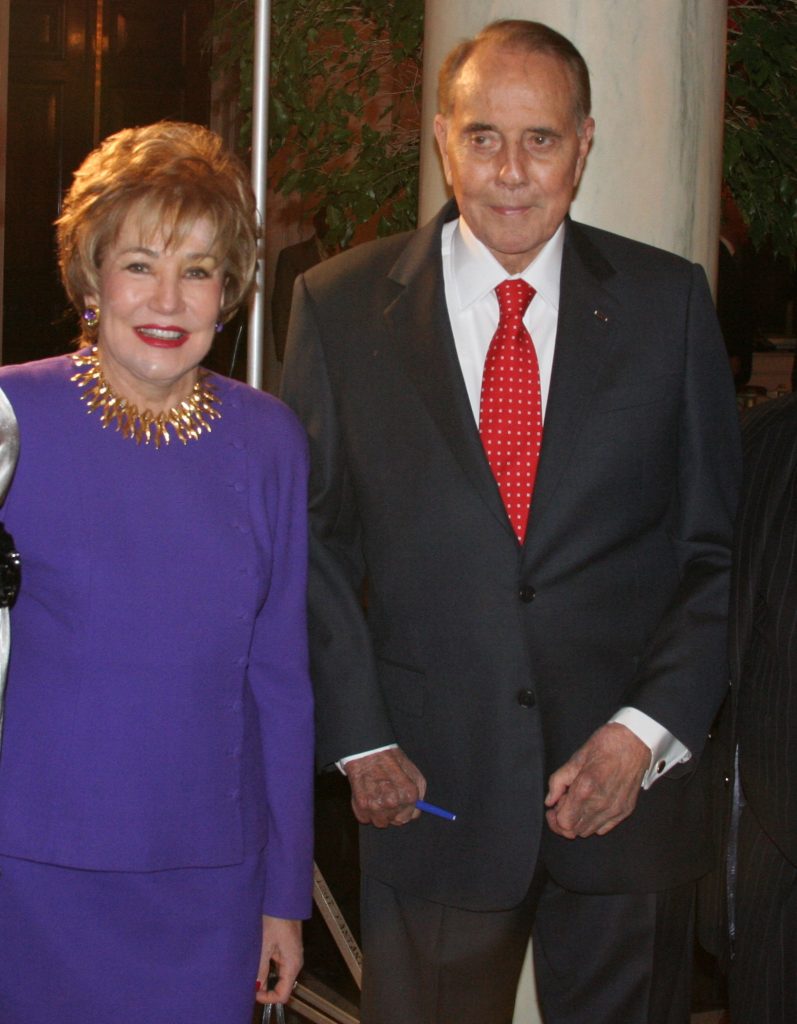 Dole's health has always remained a major concern throughout his life. He had surgery for prostate cancer in 1991 that further led to his erectile dysfunction. He also got operated on for hip replacement and had Pneumonia once. 
On December 5, 2021, he died from the complications of his lung cancer at his home in Washington, D.C., at the age of 98.
Conclusion
The Net worth of Dole was estimated to be around $50 million as of 2021. From serving in WWII to politics to writing books and his television appearances, Dole contributed immensely to his nation throughout his career.